EUMETCast Europe 2nd Transponder expansion - Dec 2017
Because the data volume on EUMETCast Europe has almost reached capacity limits of the current transponder, a second transponder has been added to the EUMETCast Europe Service. The full C10 transponder became available on 3 July 2017.
Last Updated
11 October 2021
Published on
19 December 2017
---
Transponder parameters
The following table shows the downlink parameters for the second transponder which are now valid:
Ku-band transponder EUTELSAT 10A (10° E), Europe
PARAMETER
 
Name
EUTELSAT 10A
Transponder
C10
Down Link frequency
11378.500MHz
Symbol rate
33000kS/s
Polarisation
Horizontal
Roll-Off
5%
Transmission standard
DVB-S2, CCM mode
MODCOD — High Volume Service 2
16APSK2/3
MPE transport stream (TS) ISI=1
max 85Mbps info bit rate (at TS level)
max 77Mbps IP data rate
---
Antenna size requirements
The antenna size requirements have not changed, i.e. the antenna size requirements are exactly the same as for the High Volume Service on the first transponder, see Antenna Sizes and Availability for the Basic Service (8PSK3/5) and the High Volume Service (16APSK2/3) .
---
What hardware changes are needed to support the second transponder?
The second transponder transmits on the same polarisation (horizontal) and same frequency band (low) as the first transponder. Therefore, the same antenna and LNB can be used to receive both transponders simultaneously, provided the antenna is large enough for the High Volume Service.
The minimum required hardware changes are:
Insertion of an RF signal splitter between the existing DVB device and the antenna cable.
Alternatively to point 1, a dual output LNB can be used, both ports must support low band and horizontal polarisation.
Addition of a separate DVB receiver router, this includes an addition of a second network interface to the reception PC, if not already present.
Figure 1, below, shows the minimum required hardware changes (more solutions are described at the bottom):
---
What software changes are needed to support the second transponder?
Use the latest Tellicast versions available from EUMETSAT. These versions are distributed via EUMETCast twice per day as pre-releases. EUMETCast packages are also be available as DVDs:
V2.14.1 rpm or debian or tar.gz for Linux
V 2.14.2_5 installer for Windows
The configuration changes are described in the Tellicast installation guides.
---
What PC hardware change is needed to support the second transponder?
Possibly, a PC RAM upgrade will be needed. If the user wants to receive all instances on the same W/S, a high end W/S with a 16Gb RAM is strongly recommended.
---
How can I test reception?
On the second transponder dummy files are disseminated with arbitrary content in order to make full use of the bandwidth. Please contact our User Service Helpdesk and ask to register for '2nd transponder HVS-2 test data'. Then configure your system for the second transponder following the description on this page.
---
What data will go on the second transponder?
Initially, only new services will be added to the second transponder, starting with GOES-16 data. In future it may be possible that the data flows could be re-arranged between transponder 1 and transponder 2. Announcements for these changes will be made accordingly in due course.
---
Timeline
19 January 2017: Start of test service. Users can subscribe to test data.
14 December 2017:  Start of GOES-16 OPE dissemination service.
---
Recommended DVB-S2 devices
All recommended DVB-S2 devices for EUMETCast Europe are also are compatible with the service on the second transponder, for more information see the Reception station knowledge base.
Note: Configuration files for Ayecka SR1 and NOVRA S300E users have been removed. Please contact the User Service Helpdesk for further information.
---
Alternative high availability solutions
Figure 2, below shows the hardware upgrade needed if users are keeping their existing system.
Figure 3, below, shows the high availability, fully redundant solution.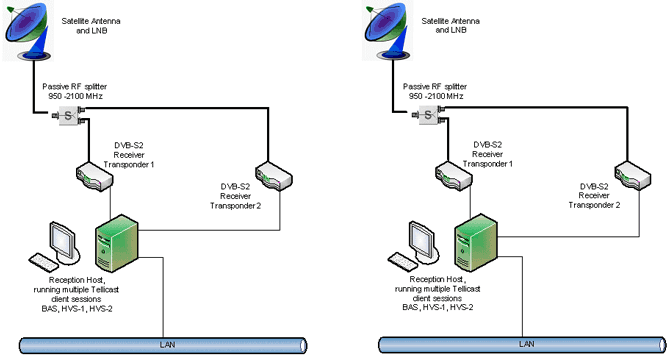 For more information please read the latest version of TD 15: EUMETCast — Broadcast System for Environmental Data or contact our User Service Helpdesk.