Fires raging in Galicia in August 2006.
Published on
07 August 2006
By Jose Prieto, Jochen Kerkmann, Johannes Müller and HansPeter Roesli (EUMETSAT)
From 2 August 2006, for a period of around 10 days, an average of one hundred simultaneous fires, probably started by environmental criminals, raged in Galicia, a forested region in northwest Spain. The first seven days of the fires were the most catastrophic for fifty years. The continuous strong, dry, northeasterly winds favoured the development of the fires.
The image below shows the long plume of smoke, which traveled hundreds of kilometres over the Atlantic Ocean, and even seems to interact with the low cloud sheets over the ocean by reducing the cloudiness. The difference image 3.9µm–10.8 µm (see image, range: -14K (black) to +48K (white)) is the most appropriate for displaying the location of the fires and the fresh occurrances of fires (imagery available at 15 minute intervals).
The animation below shows a typical duration of a fire, some lasting half a day before moving to neighbouring areas or being controlled and extinguished by the fire fighters. It is worth noting that in central Portugal some kind or ring structure can be observed around the fire.
This becomes more obvious when looking at a sequence of strongly zoomed IR3.9 images (18:00–18:45 UTC), which show the fire/hot spot in black (ie the images have been inverted). A ring of bright (cold) pixels can be observed around the fire followed by another ring of darker (warmer) pixels.
The users of MSG data should be aware that these ring structures are artifacts coming from the saturation of the IR3.9 sensor and the digital filter that is applied to the data. For the future MSG satellites it is planned to improve the digital filter, but it will not be possible to completely remove theses type of artifacts.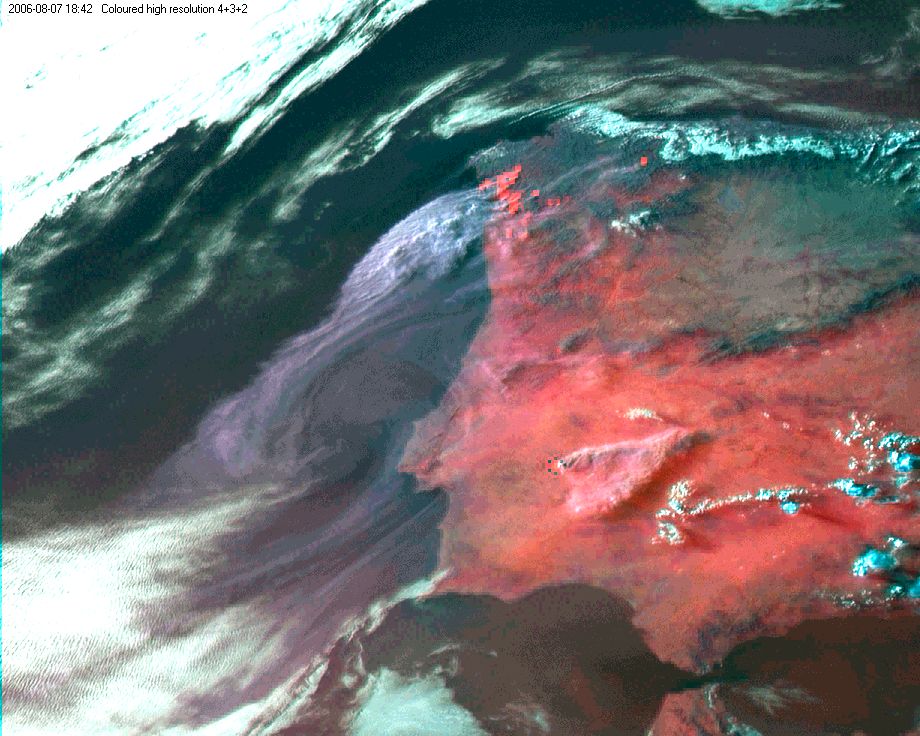 ---
Additional content
RGB composite HRV, HRV, IR10.8 (8 August, 14:15 UTC)
Animation RGB composite HRV, HRV, IR10.8 (8 August, 06:00–14:15 UTC)