In November 2016, after having some dry spring and autumn seasons, the Piedmont region of Italy, had intense multi-day precipitation, typical for these seasons.
Last Updated
22 September 2022
Published on
22 November 2016
By HansPeter Roesli (Switzerland)
Conceptually, at the origin of this weather type is a deep stationary trough over western Europe, which pushes conditionally unstable Mediterranean air against the Alpine southside.
The Metop-B Natural Colour RGB, 24 November 09:42 UTC (Figure 1) and Metop-B infrared, 24 November 20:20 UTC (Figure 2) show an elongated perturbation that caused sustained rain from the larger Mediterranean islands up to north-eastern Italy and Italian Switzerland.
While these two images from Metop's AVHRR instrument are just a day/night snapshot of 24 November 2016, the three-day long animated sequence of Meteosat-10 IR10.8 images, 22 November 12:00 UTC–25 November 12:00 UTC shows the total evolution of the cloud system, which was linked to a persistent depression over or close to Portugal. Looking more closely at the animation, features like major precipitation areas, stationary periods of parts of the cloud system and the Alpine foehn gap can be identified.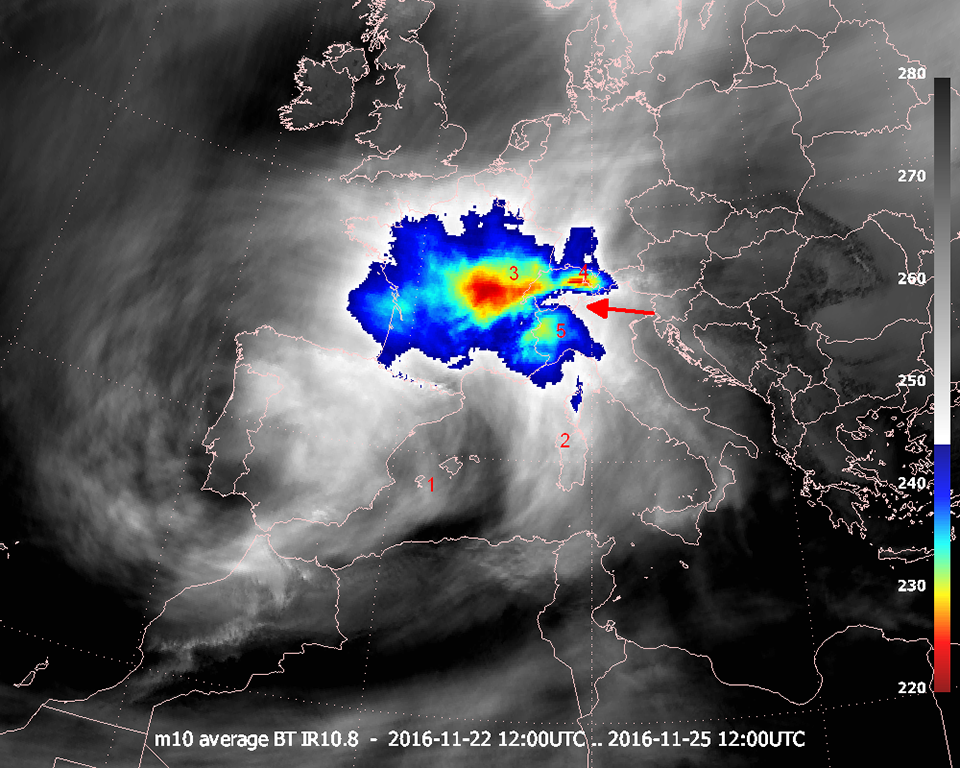 These features are brought out much better on the three-day average of the IR10.8 brightness temperature (Figure 3).
Periods of more or less stationary cloudiness along the main perturbation are identified with numbers 1 and 2. Note that persistent rain over the area of interest already started with the perturbation in position 1.
An area of warmer temperature values (red arrow) marks the foehn gap (area with thinned cloudiness due to strong downdraught under the southerly winds) along the north-side of the Alpine crests. The station of Altdorf, just north of the St Gotthard and well exposed to south foehn, experienced 108 consecutive hours of foehn conditions, just behind the 132 hours measured in 1993.
The bulk of stationary cloudiness is represented by the coloured cooler parts. One would assume the largest rain accumulations to occur under the coldest cloud patches found over France (3) and eastern Switzerland (4). But driven by southerly to south-easterly winds coupled with orographic lifting, the heaviest sustained rain was actually observed under and close to the slightly warmer patch (5) between the Italian regions of Liguria-Piemonte and the western part of the Swiss canton Ticino.
More quantitative details may be gleaned from the rainfall accumulation map of the radar Monte Lema (Figure 4, Credit: MeteoSwiss), where the rain estimates outside the red circle of 160km radius usually are underestimated. At the Lago Maggiore, acting as a major accumulation basin for such meteorological situations, water levels rose by 145cm. This is not a typical, but also not extraordinary rise for this lake. Thanks to the relatively low level before the rise, the lake level stabilised just a few centimetres below the lowest warning limit on 26 November.