Meteosat-8 observing Karthala eruption.
Last Updated
21 October 2020
by Cecilie Wettre and Jochen Kerkmann (EUMETSAT)
A new eruption of the Karthala volcano in the Comoros Islands started on the evening of Sunday 28 May 2006 at 18:05 local time, and could be observed in Meteosat-8 images.
Fresh magma formed a lava lake inside Chungu Chahalé crater in the caldera, lighting up the sky, and sending scores of frightened residents onto the streets. The NIR1.6 and IR3.9 channels of Meteosat-8 clearly show the presence of the lava (see lower left image).
No explosive activity was reported at the beginning of the eruption, only a thick plume of gas and steam above the crater, extending 60 km to the northwest, over the Mozambique channel. A large SO2 plume can be monitored with Meteosat-8 RGB imagery, using the Ash RGB composite image (see upper left image).
The 2,361-metre Mount Karthala and its forested slopes form most of the land mass of Grande Comore, the main island in the Comoros chain which lies 300 km off east Africa. The Karthala Volcano is notoriously active, having erupted more than 20 times since the 19th century.
The last eruption at Karthala occurred in November 2005 (the second eruption that year), when the volcano belched out huge amounts of ash, polluting water supplies and leaving 250,000 people without clean drinking water. For a case study of the November 2005 eruption, see the corresponding Image of the Month .
Meteosat-8 Images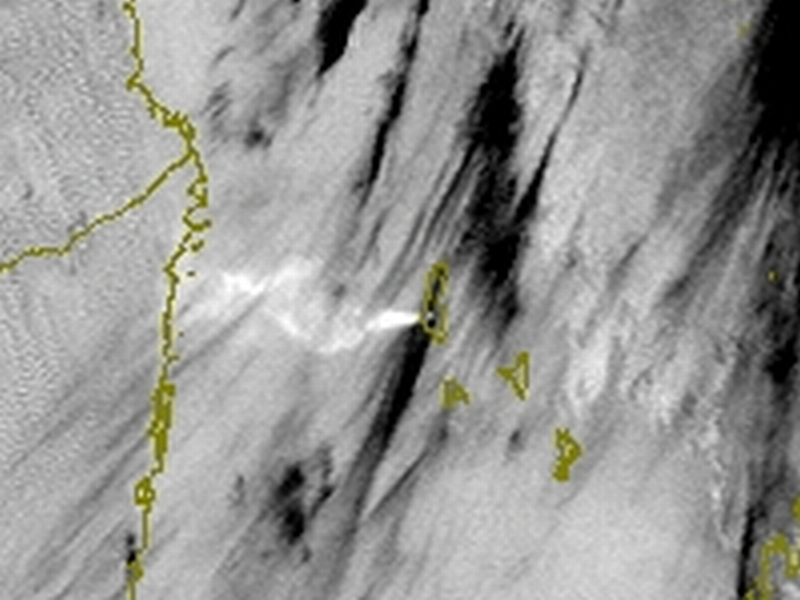 ---
Related Content
Volcanic eruption of Mt. Karthala, Comoros (25 November 2005)
Volcanic eruption of Mt. Nyiragongo (12 July 2004)
Volcanic eruption of Mt. Nyamuragira (10 May 2004)
RGB NIR1.6, VIS0.8, VIS0.6 (14:30 UTC)