In early July 2017, a massive section of ice split off from Antarctica's Larsen C ice shelf.
Last Updated
09 August 2021
Published on
12 July 2017
By William Straka III (CIMSS )
The Larsen C was the fourth largest ice shelf in Antarctica, with an area of about 44,200 km2. In August 2016, Project MIDAS, a UK-based Antarctic research project, noted the significant growth of a rift on the Larsen C ice shelf , which they had been monitoring using the MODIS instruments on the NASA Terra and Aqua satellites, plus the ESA Sentinel-1 satellite.
This rift continued to grow until sometime between 10 July and the morning of 12 July, 2017, when an iceberg finally calved from the ice shelf and was captured by the Visible Infrared Imaging Radiometer Suite (VIIRS) aboard the NOAA/NASA Suomi National Polar-orbiting Partnership (NPP) satellite. The US National Ice Center (USNIC) confirmed a new iceberg , using both VIIRS and Sentinel-1 imagery, and named it A-68.
A-68 measures 5,800 km2, or more than three times the size of the Greater London area. It weighs more than 1.1 trillion tons, or about twice the volume of Lake Erie, in Midwest America, and represents more than 10% of the Larsen C ice self.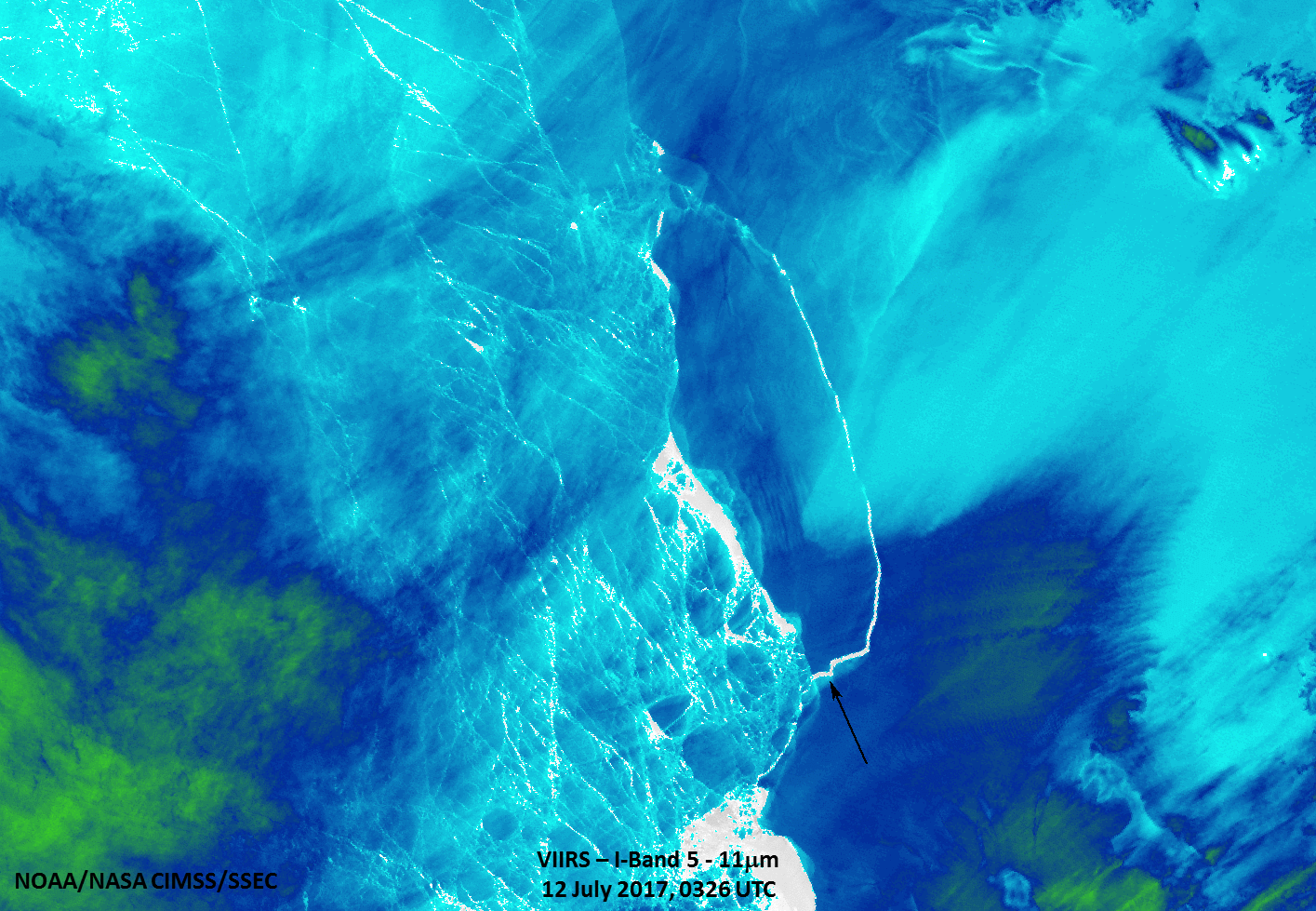 Visible imagery from the Day-Night Band (DNB) on VIIRS, due to the fact that the Moon at the time was a waning gibbous Moon providing light, showed both the movement of A-68 after it fractured completely from the Larsen C ice shelf, as well as the calving of two smaller icebergs off A-68 (Figure 2).
The clear water between A-68 and the Larsen C ice shelf can be seen in both the infrared and DNB visible imagery of the fracture (Figure 3). In the case of the DNB imagery, the sea water can be seen as the dark area between the iceberg and the ice shelf. In the case of the infrared imagery, the open sea water appears as warmer (white) temperatures.