New Sentinel-3 Altimetry Processing Baseline released soon
A new Sentinel-3 Altimetry Processing Baseline is planned to be released on 9 July 2020, introducing minor changes to the Sentinel-3 Altimetry products.
Last Updated
21 January 2021
Published on
02 July 2020
The changes introduced by PB_ 2.68- Marine (L1 IPF v06.18, L2 IPF v06.50), are the following:
New format of the L1A products: CAL1 and CAL2 do not change rapidly (respectively averaged over 10 and 27 days) and do not need to be repeated for each measurement in the Level-1A products. Thus, to provide a unique CAL1 and CAL2 per Level-1A product, the time dimension (time_l1a_echo_sar_ku) and the index (ltm_max_ind) of the following variables have been removed:

Gprw_meas_ku_l1a_echo_sar_ku.
Gprw_meas_c_l1a_echo_sar_ku.
Burst_power_cor_ku_l1a_echo_sar_ku.
Burst_phase_cor_ku_l1a_echo_sar_ku.
The L1 products (SR_1_SRA___, SR_1_SRA_A_, SR_1_SRA_BS) will be generated with a different chunk size at netCDF level that should significantly improve the reading speed, but has the side effect of enlarging the product size;
Improvement of the Sea-Ice concentration close to the coastline, this will remove spuriously low values very close to the cost (circled in Figure 1). The variable sea_ice_concentration_20_ku may have default values over land.
Improvement of the L1 AUTOCAL, the expected impact at Level-2 is low (below 0.1 dB on backscatter coefficient) but should slightly improve the wind-speed; impact on sample data is shown in Figure 2
Fix of an anomaly related to the computation of the filtered ionospheric correction on very small granules; the issue was only affecting NRT products and it has been corrected.
Updated Marine Land Mask (SR_2_MLM_AX version 004) for the generation of the Marine products: minor changes in the geographical coverage of the Marine level-2 products, only related to the extension of the coverage from coastline to Land; from 10 km to 25 km. The extension also applies to the big inland water bodies already included in the Marine level-2 products. The geographical coverage of the Marine level-2 products remains unchanged over ocean (see Figure 3)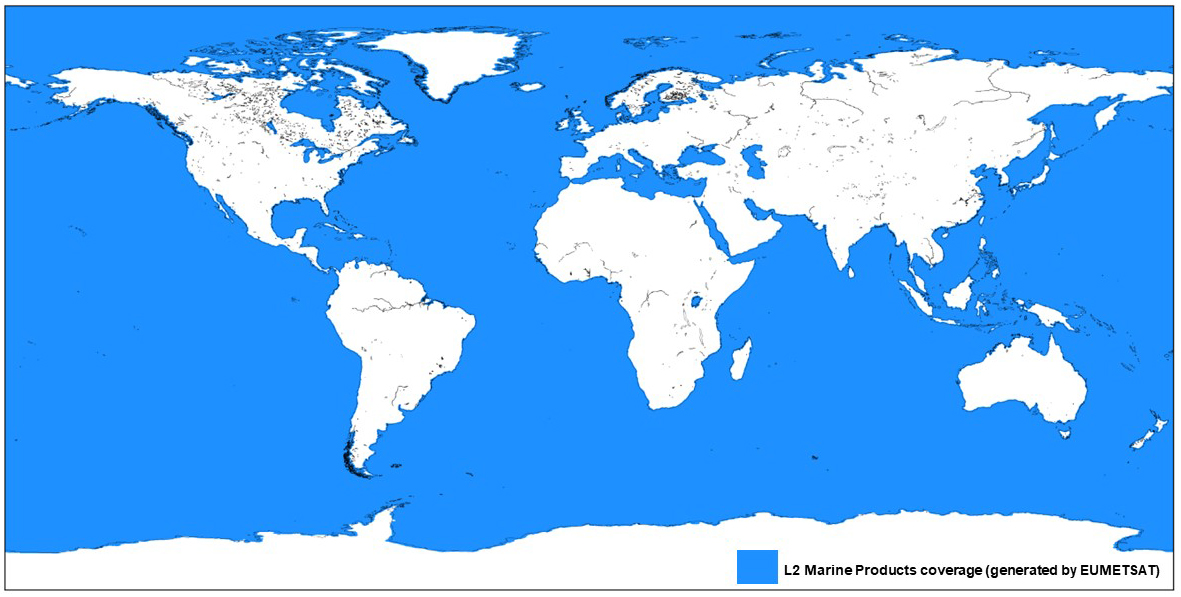 No major change at L2 Products, apart for the extension of the coverage towards the land (from 10 km to 25 km). Regarding the geophysical retrievals, a slight difference on the sigma 0 (below 0.1 dB) and wind speed (below 0.2 m/s) is observed, due to the updated L1 AUTOCAL.
Documentation
Product Data Format Specification - SRAL and MWR Level 1 products
Copernicus S3 Product Notice – Altimetry L1
Sentinel-3 Product Notice – STM L2 Marine (NRT, STC and NTC)
For more information, contact our User Service Helpdesk.