Simulated EPS-SG MWI & ICI test data released
EUMETSAT Polar System-Second Generation (EPS-SG) simulated Microwave Imager and Ice Cloud Imager Level 1B and Level 2 test data are now available for user familiarisation (28 January 2021).
Last Updated
11 October 2021
Published on
28 January 2021
The EPS-SG MWI is a conically scanning radiometer, capable of measuring thermal radiance emitted by the Earth, in the microwave region of the electromagnetic spectrum, providing cloud and precipitation products and all weather surface imagery.
The EPS-SG ICI is a conically scanning millimetre/sub-millimetre wave radiometer providing information on ice clouds.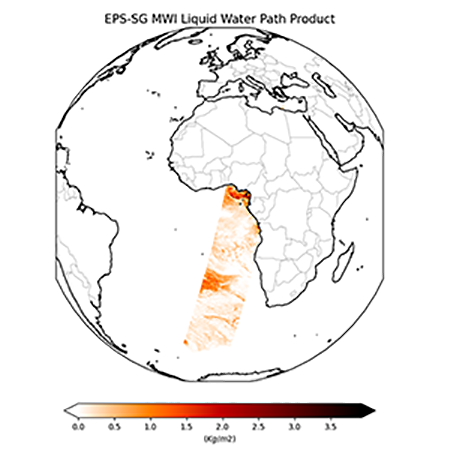 Test data description
The test data, in netCDF format, are available via our ftp site:
ftp://ftp.eumetsat.int/pub/OPS/out/test-data/Test-data-for-External-Users/EPS-SG/MWI_ICI_L1-and-L2/
They include:
MWI Level 1B Spectral Radiance product
ICI Level 1B Spectral Radiance product
MWI-ICI Level 2 product providing cloud and atmospheric parameters
Tar files with associated checksum files are provided.
These data are intended for format familiarisation and system testing.
Documentation available via ftp
EPS-SG Generic Product Format Specification (GPFS)
EPS-SG ICI Level 1B Product Format Specification
EPS-SG MWI Level 1B Product Format Specification
Readme
MWI-ICI Level 2 Product Format Specification
For more information and feedback on the test data, contact our User Service Helpdesk.