Satellite observations of the Indian Ocean tsunami in December 2004.
Last Updated
04 October 2023
Published on
25 December 2004
About two hours after the initial magnitude 9 earthquake shook the seafloor southwest of the Island of Sumatra, the joint US/French Jason satellite was flying over the Indian Ocean taking measurements of the height of the sea surface for ocean circulation and climate studies.
Along the satellite's ground track, traversing the Bay of Bengal, Jason's radar altimeter measured the height of the tsunami waves as they radiated from the epicenter. A maximum sea surface elevation of 50cm was measured about 1200km south of Sri Lanka at the leading crest of a tsunami wave, followed by a trough in the sea surface level of 4cm. The wavelength is about 800km.
This leading wave was followed by a second one with crest height of 40cm. Near the northern end of the Bay, two waves with crest heights of 40cm and 20cm were just about approaching the coasts of Myanmar. When the waves arrived at the beaches, the wave speed reduced from that of a jet plane to around 15km/h with tremendous amplification of the crest height to around 10m, resulting in massive local destruction.
TOPEX/POSEIDON, flying simultaneously along a track about 150km to the west of Jason, made similar observations of the tsunami waves. The agreement of the two independent observations lends confidence to the measurements.
The observations made by Jason and TOPEX/POSEIDON provide the first large-scale open ocean data of a major tsunami event. These data are of great value for testing and improving computer models of tsunami, which are critical for early warning systems. However, it should be pointed out that, whil these observations happened to be in the right place at the right time, this instrument is not suitable for use as an operational warning system because of the infrequent coverage from a NADIR viewing instrument on a polar orbiting satellite.
It should be noted that the anomalies of sea level height caused by a tsunami cannot be detected in NOAA AVHRR or Meteosat imagery. With a sub-satellite sampling distance of 1km, MSG (Meteosat Second Generation) is also not able to detect the inundated areas along the coast of eastern Africa. The high-resolution visible images from 25 and 27 December 2004 (see below) show no changes of the coastlines of Somalia and Kenya. It might be possible to detect inundated areas in Meteosat-5 images in northern Sumatra, where the inundations have covered a larger part of the coastline, but the Meteosat-5 satellite has a poorer horizontal resolution.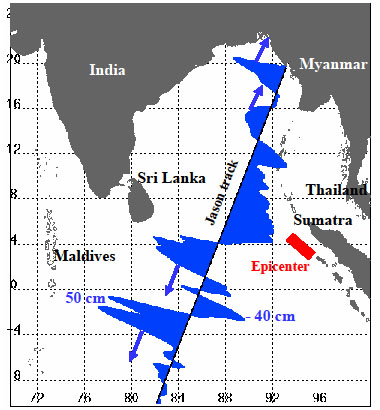 ---
Additional content
NOAA AVHRR RGB composite image of Somalia coast (27 Dec 2004. Source: NOAA)
Terra MODIS RGB composite image of Sumatra (29 Dec 2004. Source: NASA)
SPOT-2 image of Banda Aceh (26 Dec 2004. Source: SPOTIMAGE)