From 23 to 25 August, a series of active weather fronts passed across West and Central Europe, triggering the development of several large thunderstorms.
Last Updated
09 October 2023
Published on
24 August 2011
By Theo Steenbergen and Jochen Kerkmann (EUMETSAT)
During the afternoon of 24th, a cold front accompanied with a convergence zone crossed France, Germany and Poland from south-west to north-east. Favoured by high CAPE conditions, several very active Cumulonimbus cells developed, with storm tops overshooting into the lower stratosphere.
These convective storms crossed Germany from Saarland to Sachsen-Anhalt and Mecklenburg-Vorpommern, producing hail (small, but large quantity), strong rain and strong wind gusts. One of the storms crossed right over Darmstadt, the city of the headquarter of EUMETSAT. According to the DWD, in Bad Soden-Salmüster (Hessen) and in Berlin-Schönefeld wind gusts of Beaufort 12 were measured, and as regards precipitation, the station of Waidhaus-Prentsch (Oberpfalz) registered 88 mm rain in just one hour.
The cloud top texture of the convective cells is well visible in the IR10.8 and HRV imagery (see images below), including ring-shape and U/V-shape storms and radial Cirrus bands or 'ship waves' over one of the cells. Note that ship waves atop of thunderstorms are not pure waves but are due to the interference of waves. They are caused by the relative motion between the fluid and an obstacle (see satellite examples , Pao Wang, 2010).
Animation IR10.8 channel (12:00–17:00 UTC, animated )
Animation HRV channel (10:00–16:45 UTC, animated )
Animation HRV channel (zoom on storm with ship waves) (16:00–17:00 UTC)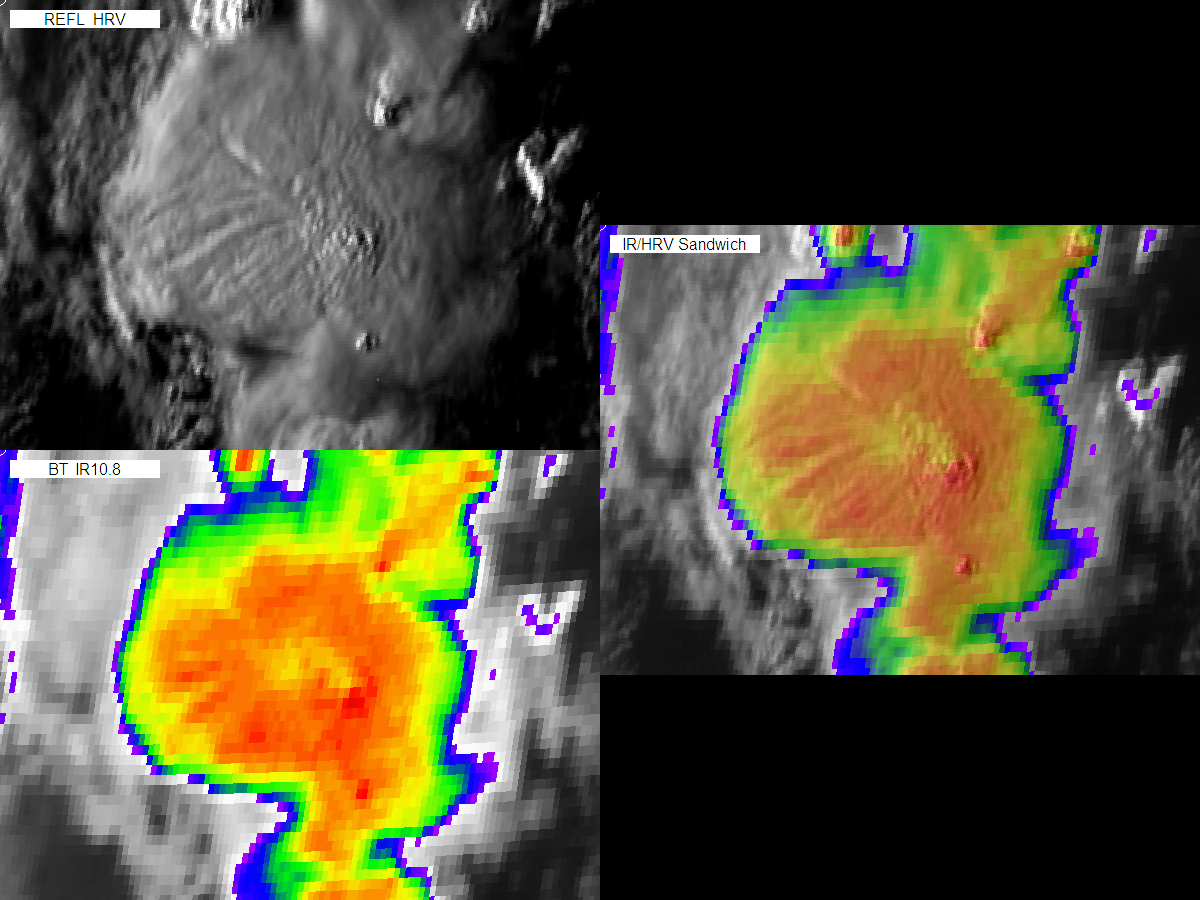 ---
Additional content
Mesoscale convective systems above Central Europe (13 July 2011)
Two thunderstorms with above-anvil plumes over Northern Italy (6 July 2010)