Detection of harmful algal blooms in the southern Benguela in 2017, as seen by OLCI aboard Sentinel-3.
Last Updated
21 February 2023
Published on
28 February 2017
By Hayley Evers-King (PML), Marie Smith and Stewart Bernard (CSIR)
The southern Benguela current is a highly productive ecosystem, making it a popular site for fisheries and aquaculture activities.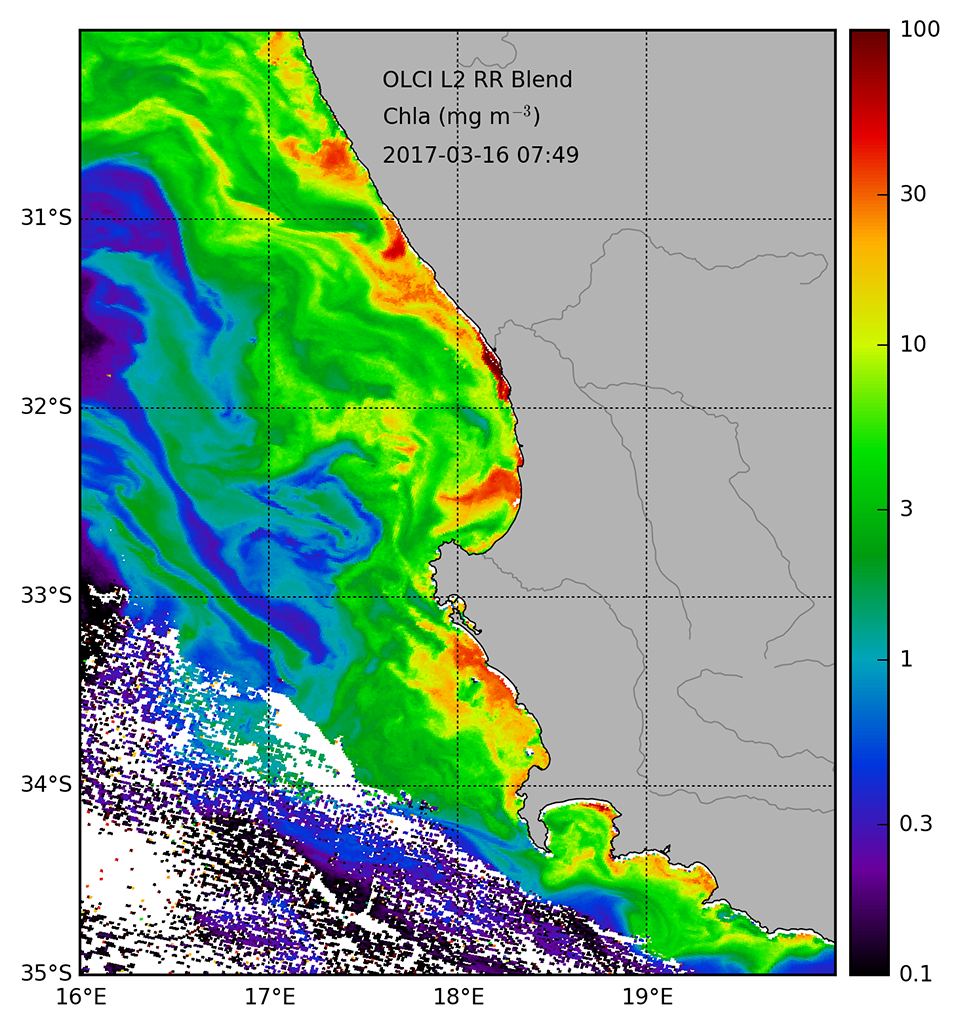 However, this high productivity can also present a threat, when harmful algal blooms occur.
These occur seasonally in the region and, due to their frequently high Chlorophyll a content, can be detected by satellite ocean colour measurements. Sentinel-3's OLCI allows biogeochemical measurements like concentrations of Chlorophyll a — the photosynthetic pigment of phytoplankton (algae) — and suspended sediments.
Figure 1 shows the Chlorophyll a (Chl-a) concentration associated with one of these blooms which persisted throughout the 2017 austral summer upwelling season.
The Chl-a product is produced with a switching algorithm which uses an adapted version of the OC4MEblue-green band-ratio algorithm for low biomass waters, while a red-Near Infrared band-ratio algorithm is applied over high biomass waters.
Using a time series of OLCI images, the bloom can be tracked (Figure 2). A threshold of the Chl-a concentration can be set, and the first time that this is exceeded within a season can be calculated.
This can give insight in to the typical progression of these events in space and time, a useful predictor for aquaculture farms in the region.
On Figure 2 blue patches indicate earlier bloom initiation, while red indicates later bloom initiation. Initiation is determined as the first time the Chlorophyll a concentration, derived from the satellite images, exceeds a threshold during the upwelling season.
The figure shows the progression of a bloom, southward, through the bay during the 2016/2017 season.
The data and tools developed from these observations feed in to the Ocean and Coasts Information Management System (OCIMS). This is part of Operation Phakisa, a South African government initiative to develop the blue economy across several areas, including aquaculture.
OLCI products are used within the OCIMS HAB Decision Support Tool which provides a risk assessment of potentially harmful high biomass blooms.
---
Additional content