Storms and high seas along the South African Cape south coast in August 2005.
Published on
26 August 2005
by Abel Moatshe (South African Weather Service), Gordon Bridge and Jochen Kerkmann (EUMETSAT)
An intense frontal system associated with a cut-off low pressure system was situated west of the South-western parts of South Africa on 25 August 2005. Strong cold air advection was evident on this day (see upper left image), deepening the frontal system. The rapidly intensifying low pressure system generated long period swells behind it and they arrived over the Cape south coast on the following day after the frontal system had made its landfall on the morning of Friday 26 August (see upper right image).
The actual observation along the coast Cape Point recorded 3.69m waves at 00:00 UTC on 26 August 2005 but within three hours the seas rose up to 5.16m and reached 7.68m at 12:00 UTC and 9.61m later on the same day. A wave rider FA Platform recorded 5.4m in the afternoon of the 26th and reached 7.3m by 12:00 UTC on the same day and eventually reached 12.7m on 27 August 2005 at 03:00 UTC (source CSIR).
A local newspaper (Die Burger, Port Elizabeth) of 29 August 2005 reported that sea waves of up to 9m reached the chalets at Stormriver mouth. Trains were delayed when waves crashed over the railway line and onto the national road at Bluewater Bay, Port Elizabeth.
The Meteosat-8 RGB composite images below give more detailed information about the cyclone and the frontal cloud band, which is marked by a red colour in the RGB VIS0.8, IR3.9r, IR10.8 image. In particular, on 26 August one can see heavy showers (see the dark red convective cells) reaching the most southern part of South Africa. From the pink/magenta colour of the cloud band over the western coast (which indicates water clouds with large droplets) one can deduce that this cloud band, although formed of water clouds, produced quite substantial rain over the Namaqualand and surrounding areas.
Furthermore, the Airmass RGB image (lower two images) on 26 August shows the extremely intense cyclone over the South Atlantic with the post-frontal, dry, descending stratospheric air (with high potential vorticity) reaching the most southern parts of South Africa (indicated by a reddish colour). The extensive fast-moving zone of cold air that came in behind the storm (see also the visible image) clearly shows the long fetch, which generated the above mentioned unusually high swell.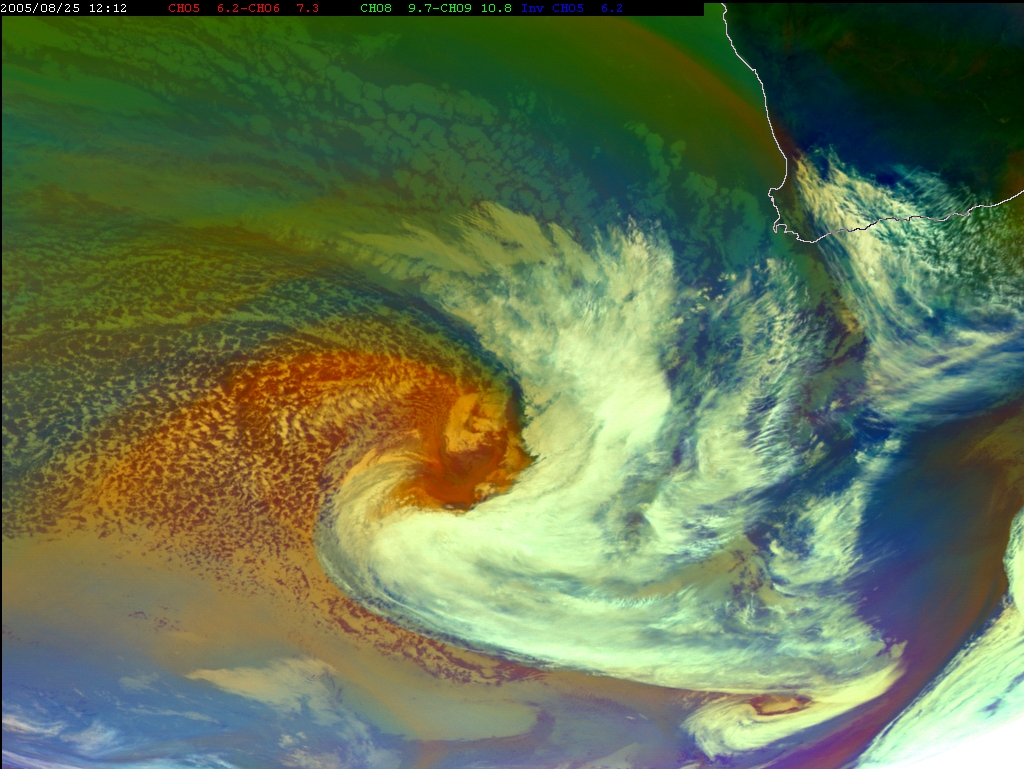 ---
Additiional content
Potential vorticity at 300 hPa from ECMWF analysis (25 Aug 2005, 12:00 UTC)
Absolute topography at 500 hPa from ECMWF analysis (25 Aug 2005, 12:00 UTC)
Absolute topography at 1000 hPa from ECMWF analysis (25 Aug 2005, 12:00 UTC)
RGB composite NIR1.6, VIS0.8, VIS0.6 (29 Aug 2005, 11:00 UTC)
Photo showing Clanwilliam Dam in Western Cape Province (26 Aug 2005, credit: J. Kerkmann)