The Nyamuragira volcano is the most active volcano in Africa.
Last Updated
21 October 2020
It is a 3056 m high massive basaltic shildvolcano located within the Virunga National Park, north of Lake Kivu and north-west of Nyiragongo, a neighboring volcano. Lava from Nyamuragira cover 1500 square km of the East African Rift and has come as far as 30 km from the volcano, even down to Lake Kivu.
The Nyamuragira volcano is the most active volcano in Africa. According to the Goma Volcano Observatory, the Nyamuragira volcano erupted on 8 May 2004 at 05:48 local time. The lava flows remained within the National Park boundaries and did not threaten populated areas.
Ash fell in several villages on the west and north flanks of the volcano. The volcano also emitted a large amount of sulfur dioxide (SO2) into the atmosphere, which could be observed from satellites (e.g. AIRS on EOS/Aqua, TOMS and Meteosat-8). Like the Nyiragongo, the Nyamuragira volcano is well known for its high emission of SO2.
The Meteosat-8 images below show the volcanic SO2 plume on 10 May 2004, two days after the first eruption. Like in the case of the Nyiragongo eruption on 12 July 2004, the SO2 plume is best visible in the IR10.8– IR8.7 brightness temperature difference image (with values of up to +8 K).
As can be seen in the animation, large parts of Rwanda and Burundi are covered by the SO2 cloud, which moves in a south-easterly direction towards lake Victoria. Later during the morning, with the clouds clearing and wind direction changing to north, the satellite is seeing more SO2 in lower layers in the eastern region of the Democratic Republic of the Congo.
According to measurements from the Earth Probe Total Ozone Mapping Spectrometer (EP TOMS) the highest SO2 concentrations were detected in a zone across Rwanda, which contained ~190000 tonnes of SO2.
Meteosat-8 Images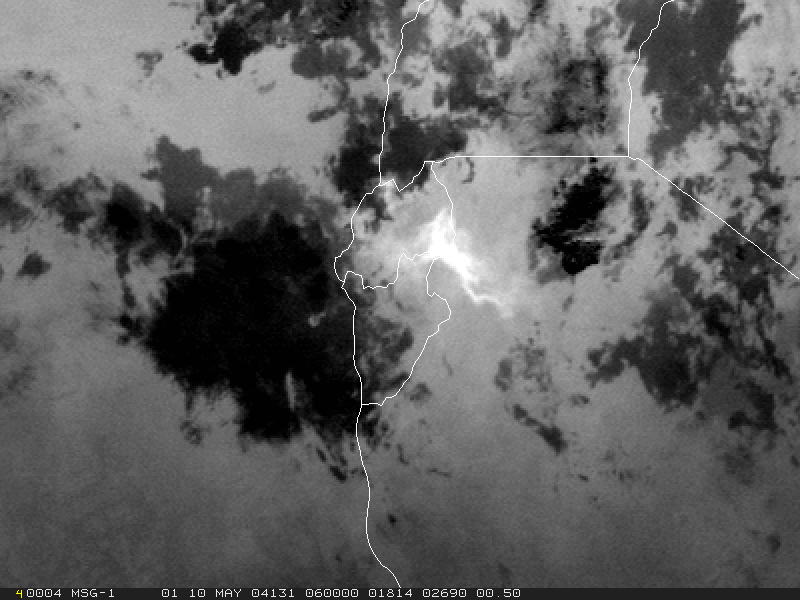 ---
Related Content
Volcanic Eruption of Mt. Nyiragongo (12 July 2004)
Map of the Democratic Republic of the Congo showing the location of Mt. Nyamuragira (source: USGS)
TOMS image of the eruption (source: NASA)
EOS/Aqua AIRS image of the eruption (source: NASA)
If you have any questions or queries about EUMETSAT, its products and services, please contact our User Service Helpdesk .