Winter fog situation over Central and Western Europe.
Published on
12 December 2004
From about 4 to 14 December 2004, an anticyclonic situation over Central Europe with a strong low-level temperature inversion caused widely spread fog and low-level stratus over Germany, France, UK and many other countries. Many valleys and low-altitude areas were shrouded in fog for many days, while mountain areas enjoyed sunny weather with relatively high temperatures.
In the plains of Germany, the temperature was generally below 0°C (see radiosounding of Essen ) with low visibility, while in the mountains at 1000m height temperatures were much higher with excellent visibility. This weather situation lasted until 15 December 2004 when a cold front from the north-west finally led to a change of airmasses over Central Europe.
The high-resolution visible (HRV) channel on Meteosat-8 is particularly useful for monitoring of this kind of winter fog situation. It shows the presence or non-presence of fog/low stratus in the plains and valleys, the dissolution or non-dissolution of the fog during the day, the presence of multi-layer clouds, the cloud-free mountain tops and the channelling of air flow between mountain ranges.
The HRV animations below show for example the persistence of fog/low stratus in Hungary, the detailed structure of fog in the mountain valleys of the Dinaric Mountains and the presence of high-level lee cloudiness to the lee of the Carpathian Mountains. They also show cloud-free mountain tops of mountain ranges like the Harz and Thüringer Wald in Germany, and the channelling of the air flow between the mountain ranges in Germany. Finally, over the UK the fog/low stratus appears with varying grey shades. This may either be caused by differences in the optical thickness of the fog/low stratus layer or by one stratus cloud layer running on top of the fog layer (multi-layer clouds).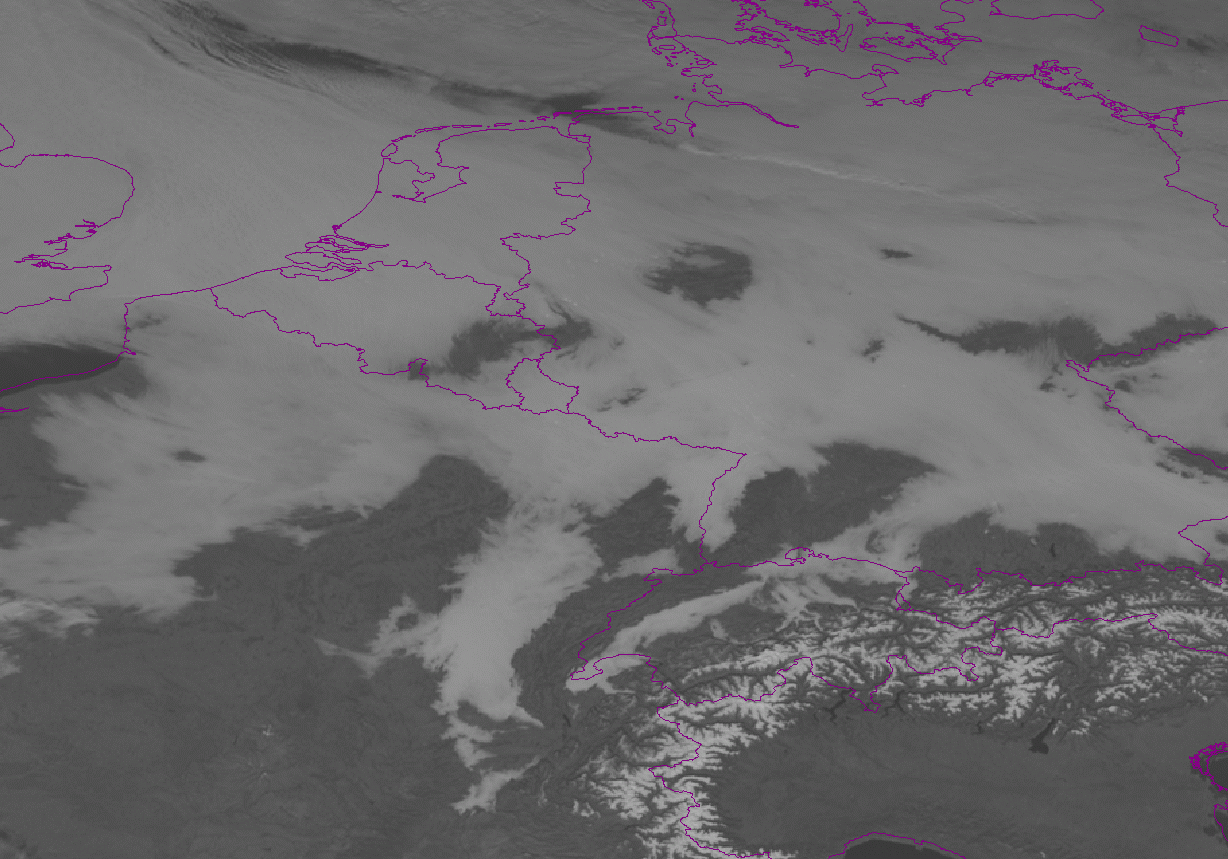 ---
Additional content
Surface chart (13 Dec 2004, 00:00 UTC. Source: Deutscher Wetterdienst)
Radiosounding Essen, Germany (13 Dec 2004, 12:00 UTC. Source: Deutscher Wetterdienst)
Enhanced Met-8 IR10.8 image (13 Dec 2004, 12:00 UTC)