Inside EUMETSAT: meet Yves and Anke
Inside EUMETSAT interviews Yves Buhler and Anke Mayer.
Inside EUMETSAT returns this week with two more of our outstanding EUMETSAT colleagues: Yves Buhler and Anke Mayer! Yves has been with EUMETSAT since way back in 1992, while Anke joined late last year. Let's see what they have to say.
Last Updated
10 August 2021
Published on
22 March 2021
Inside EUMETSAT is a series of articles for the EUMETSAT Science Blog that will be published over the next weeks and months. Each week, we'll introduce you to two valued members of our team: one newcomer, joined in the past year, and one senior staff member who has spent years at the organisation.
In a time that's far from ordinary, we hope to use this opportunity to introduce our readers to some of the diverse and friendly faces they might encounter in the course of a normal day at EUMETSAT. It's our goal to appreciate and celebrate all the different and talented people who work here. We hope these articles will help you discover—or rediscover—EUMETSAT.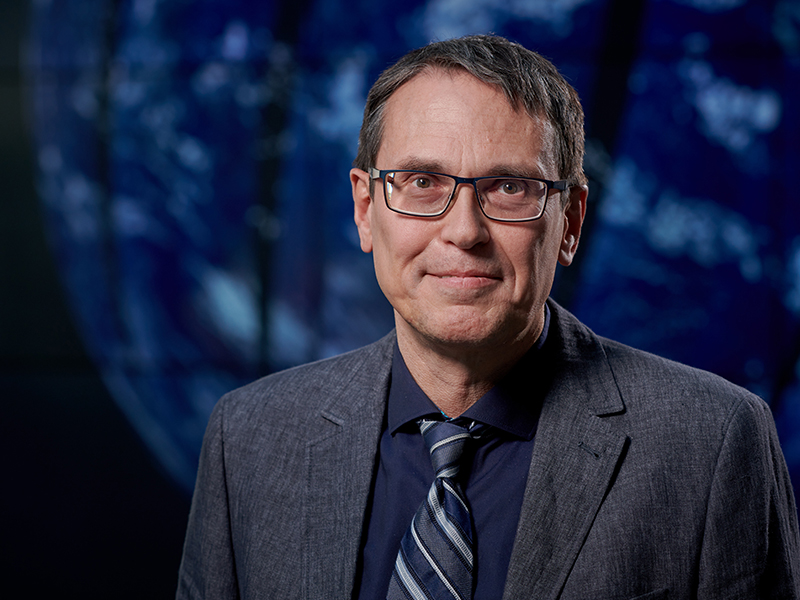 Meet Yves and Anke!
What is your current role at EUMETSAT?
Yves Buhler: I am currently the Director of the Technical and Scientific Support department (TSS). As such, I have a double role both as a member of the EUMETSAT Management Board and as responsible for the TSS Department. It is obviously quite an encompassing role, as TSS consists of five separate divisions, and in terms of pure person-years it represents about one half of the entire size of EUMETSAT. A large majority of the people in TSS are there to support various programmes in Development or Operations. TSS is also providing QA, Configuration Management, Information Management and Project Control as well as IT support to the rest of the organisation.
We nevertheless have had the opportunity to promote some innovations to the organisation: migration to cloud-based services, setting up a modern cybersecurity scheme, exploratory projects for the use of AI and Machine Learning, involvement in Destination Earth, new scientific products, preparing for future missions like Lidar or Arctic Weather System constellation, and so much more. My role is mainly coordination, decision-making and taking initiatives on new solutions. I am lucky to be supported by many competent teams!
Anke Mayer: I am the new HR Business Partner for TSS. Along with all of my other colleagues in HR, we support TSS in achieving its business goals. The tasks of an HR Business Partner are manifold, which makes it interesting, challenging and fun. I am typically involved in all phases of an employee's employment lifecycle and often the first contact for managers on strategic personnel topics. Having worked at EUMETSAT for a few months now, I have been involved in many different activities, from recruitment and hiring-related tasks, attendance of succession planning meetings, planning any necessary staff trainings, reviewing job descriptions, supporting restructuring activities, interactions with externals, and working with the staff rules. Of course I am also involved in many other HR-related topics and questions coming from management and employees, for example about personal issues and other individual topics.
Do you interact with each other's teams for work?
YB: I have regular interactions with HR. Actually, the principle of the HR Business Partner (HRBP) was first piloted here in the TSS department, as was the skills assessment process. This has created a strong link between the TSS management and the HR division. Clearly, TSS supports the whole organisation on topics like keeping competences up-to-date, hence development of teams, personal development of staff, any conflict resolution that needs to take place, as well as dealing with personal issues are quite important. So we have regular interactions, sometimes more than weekly, and monthly at a minimum. My main counterpart is Anke.
AM: Yes, I do. I am in touch with colleagues at TSS on a daily basis in the form of emails, Skype chats and Webex/Zoom meetings, and hopefully soon in person at the offices again. The role of the HR Business Partner is very well established in TSS and although still being new to the organisation, there is a lot of daily interaction with the teams and individuals at all levels.
What has been your biggest challenge during COVID and lockdown?
YB: The biggest challenge was similar across all parts of EUMETSAT: how to ensure the continuation of critical activities during the pandemic, in particular the provision of support to operations and the readiness of Sentinel-6 Ground Segment for the launch and commissioning. Luckily, we were very pleased to witness how our innovative and imaginative people were able to rapidly validate and deploy tools and methods to remotely perform mandatory activities that had previously taken place on site. This ranged from the remote administration of operational systems through secure access to running integration tests and acceptances without contact between the many teams involved.
So in the short term, EUMETSAT responded to the pandemic in a fast, reactive and effective way. My chief worry now, however, is in the longer-term. TSS lives on the interactions within and between teams, allowing free exchange of knowledge and information, deriving synergistic solutions and implementing the lessons learned. This gives TSS its strength and resilience. Since the team started interacting only via Webex/Zoom, I fear some of this is getting a bit lost.
And last but not least, like everyone on the management board, I am concerned about the well-being of the employees after a difficult year. I must stress that, from the beginning, I have felt very supported by the management in all our initiatives.
AM: I started in the middle of the lockdown, so I have been to the office only a few times so far. I mainly miss the lack of daily face-to-face interactions; something I also consider to have been the biggest challenge throughout my onboarding process.
Currently, I usually work from my home and am rarely on site. I mainly interact with my colleagues via chat functions or video calls. Luckily, these modern technologies allow us to 'see' each other, even if it is only via screens. It really helps to be able to see somebody's face while you interact with each other. But whenever I am in the office, I take the opportunity to say 'hi' to the colleagues I have previously met only online!
I do feel very supported by my colleagues who have all been very forthcoming in answering all my questions via email/chat or virtual interactions, who share their knowledge and simply integrate me into the team by making me feel welcome. I want to take this opportunity to say 'thank you' to everyone who has welcomed me and helped me feel like a member of the team! EUMETSAT does a lot to support staff during COVID and lockdown and this is highly appreciated, also by me as a newcomer.
What has your experience of EUMETSAT been during normal, non-pandemic times? Why do you like working here?
YB: It is an organisation which really filled a need when it was created: at the time it was a small, focused organisation reporting to a highly-organised user community. The success of the Meteosat Transition Programme (MTP) in 1995 showed that this organisation was able to manage its systems end-to-end, including the development, validation and finally operation of a ground segment and satellites. Then the success story continued: with the EUMETSAT Polar System (EPS), EUMETSAT entered into another league: one of operators of complex. Low Earth Orbit missions like e.g. NASA, ESA, CNES. What I have especially liked in my EUMETSAT years is the constant evolution of the job, the new programmes and projects, and of course, all of the nice, helpful and dedicated people. When you look at the skills base, the amount of knowledge packed into this organisation is fascinating.
What has been your experience of EUMETSAT been like so far? Were you able to come to HQ and meet colleagues face-to-face?
AM: I really enjoy working for EUMETSAT. Before joining, I worked for a company in the aerospace industry which actually provides some services to EUMETSAT. So I knew EUMETSAT from the industry perspective, and it is therefore very interesting for me to notice the similarities, like people with the same mind-set, similar HR topics, very international character, and so on. At the same time, I have also noted significant differences: no German labour law but Staff Rules, different processes, and other things. And yes, I have been to the HQ a few times to meet colleagues, but most of the time I am teleworking.
How did your recruitment take place?      
YB: It was back in the spring of 1992. EUMETSAT´s technical and programme teams were located in Pallaswiesenstrasse, a single rented floor in a white building. The other floors were rented to other companies: there was, for example, a law firm in the same building with black Porsches as company cars! The Director-General at the time, John Morgan, and the administration were all the way on the other side of Darmstadt in a villa. When I came, I was very kindly greeted at the reception, given something to drink, and I immediately felt comfortable and welcomed. During the interview, I felt a good connection with the people who would be my future management: they were open-minded, competent and I could feel that they established a pleasant working environment. I initially thought I would stay three or four years, finish the MTP programme, and then move on. But as you can see, I stayed!
AM: I applied for this position at the end of 2019, and got an invitation to a telephone interview sometime in February. After this interview, there was a small delay due to COVID, which I was informed about by the recruitment team. In the meantime, I was asked to conduct some psychometric tests and my 'big' interview took place virtually, via Webex. The Interview Board consisted of five members, who back then were still meeting in person in one of the HQ's bigger conference rooms. As they were seated with sufficient space in between, the camera was set up in such a way that I either could see four people on the other side of the table, or when the camera was turned, a single person as a close up. So I never saw all five board members at once, which added some humour to the situation and served to 'break the ice' a little bit. After that, I took a written test at home and got an email shortly after announcing the good news. Given the circumstances, I felt that the situation was handled very professionally and I got a first glance what it would be like to work at EUMETSAT.