IASI Conference to discuss latest findings
More than 130 meteorological experts, scientists and researchers will meet in Antibes Juan-les-Pins, France, on 11-15 April, for the fourth IASI conference jointly organised by EUMETSAT and the Centre National d'Etudes Spatiales (CNES).
Last Updated
22 October 2020
Published on
11 April 2016
This year's session of the conference will share and review the latest findings resulting from nearly 10 years of hyperspectral observations delivered by the IASI instruments onboard EUMETSAT's Metop satellites .
It will also reflect on the benefits expected from the new generation of Infrared Atmospheric Sounding Interferometers (IASI-NG) to be flown on three successive Metop-SG A satellites of the EUMETSAT Polar System of Second Generation (EPS-SG) in the 2021-2040 timeframe.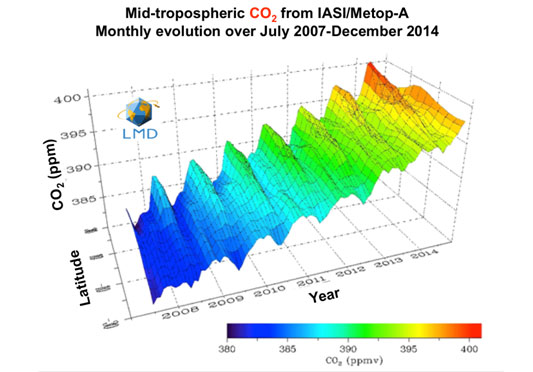 IASI is primarily dedicated to monitoring temperature and humidity for Numerical Weather Prediction (NWP). Ingesting vertical profiles of temperature and moisture extracted from IASI data into NWP models has been one key factor contributing to the significant improvements achieved during the last decade for weather forecasts up to 10 days in advance.  The improvements have been so beneficial, some weather services consider IASI to be "the best meteorological sounder ever developed" (Météo France ).
Owing to the efforts of the scientific community, IASI data are now also used to monitor concentration of trace gases such as carbon monoxide (CO) and sulphur dioxide (SO2), which is making a difference to the understanding of atmospheric chemistry.
Cathy Clerbaux from LATMOS , France says: "After the first IASI instrument was launched, we realized that the potential of the mission for atmospheric composition exceeded our expectations by far. By monitoring molecules such as CO and SO2, IASI already delivers a significant contribution to the operational modelling of air quality and atmospheric composition.' 
IASI has also proven to be useful in the context of greenhouse gas monitoring, as Cyril Crevoisier, from LMD , France confirms. "For nearly a decade, we have been monitoring methane (CH4) and carbon dioxide (CO2) mid-tropospheric concentrations with IASI, among other Essential Climate Variables."
CO concentrations due to fires observed last fall over Indonesia
---